Fergus Medieval Faire
Let's get medieval!
July 20, 2024
11:00 to 5:00 in downtown Fergus, Ontario
Join us for a free, family-oriented day of medieval fun & merriment. Featuring knights and ladies, vikings, battles, magicians and wizards, monks, birds of prey, musicians, archery practice, fight the knight (for kids) and more!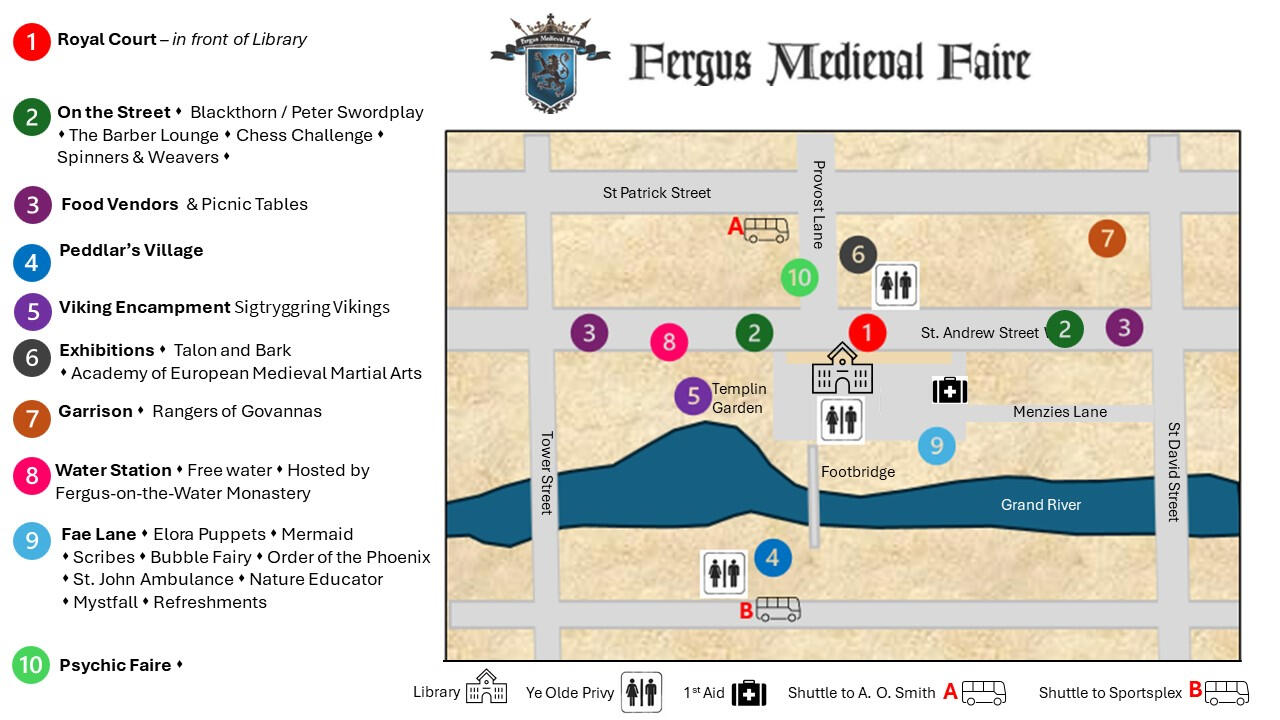 Vendor Information
The Vendor fee is $100.00 for a standard lot and $150 for a coveted corner lot. All lots are 10' x 10'. A site map with location options will be provided upon approval of your application.Please fill out and submit the vendor application form below. Approved vendors will receive a media release form which must be signed and returned to the Fergus Medieval Faire organizers by July 15 2023.Vendors should arrive at least an hour early to set up (event begins at 11am). Vendors must stay open until the event is over. (5pm)Each vendor is responsible for their own tent set up. Vendors supply their own tent and tables. Tents can be no larger than 10′ x10′ and must be weighted down (no stakes or pegs)All vendors will be in the designated Marketplace area unless otherwise arranged with the Fergus Medieval Faire organizers.Vendors cannot partner with other vendors or bring in products/vendors that have not been approved by the Fergus Medieval Faire. All product must be approved by the Fergus Medieval Faire. We reserve the right to decline unapproved vendors / products on site.Third Party marketing, advertising and promotions are not permitted. Please do not display posters or hand out promotional materials without approval of Fergus Medieval Faire organizers.Vendors must be able to provide proof of insurance to Fergus Medieval Faire organizers.
Fergus Medieval Faire Vendor Form